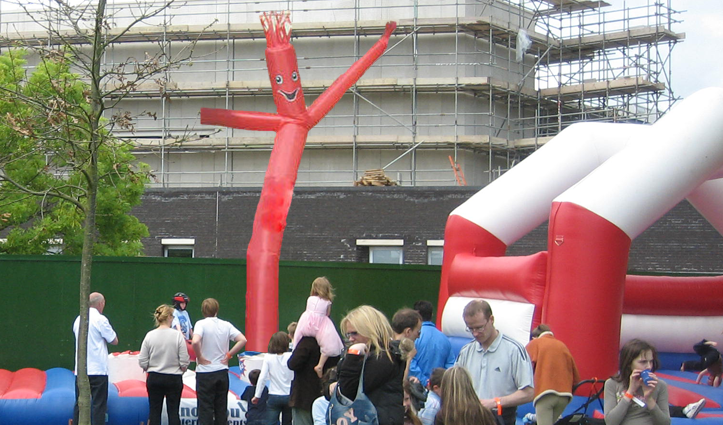 "I would have no hesitation in recommending Knockout Entertainments – they think of absolutely everything – sparing me much of the management time that I would normally have to invest in such an event."

Perfect for attracting customer's attention! – these are perfect for corporate sales events or exhibitions and are brandable upon request.
Also known as Sky Dancers or Air Puppets, you've seen these giant inflatable smiley faces, weaving and waving their arms around and getting all the attention. Well if you are wanting an eye catching 'look at me' attraction, then you want these colourful, tall, gangly, dancing attention getters for your event.
Sky Dancers can be seen from streets away and everyone will will be wanting to know what's going on. These dancers are completely self-contained, with their own generators and are a spectacular attraction for any event.
This product comes provided with everything required for use; including all assembly components and construction by our expert team.
Should you have any specific requirements or questions, feel free to contact us on: 0118 969 1188 or contact us using our contact page


Knockout Entertainments
Knockout Entertainments provides high quality games, events, catering and activities for both private and corporate functions, events and days. Fully insured, our professional team ensure that your day is hassle-free and you and your guests are free to enjoy the activities!
We have locations in Leicestershire and Reading, Berkshire and provide services all around the United Kingdom.