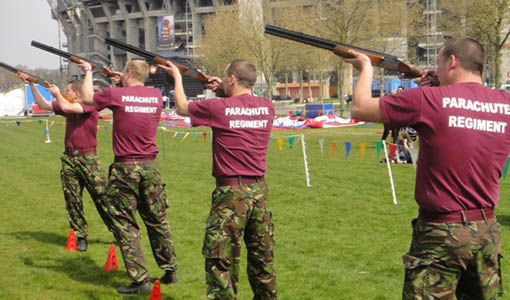 "On behalf of Virgin Atlantic, I would like to thank Knockout Entertainments for their dedication and service shown throughout our corporate events in the Caribbean. Their competence, attitude and equipment provided have been second to none."

The ultimate in shooting entertainment – competitive and fun, this is a sure hit for corporate and private events alike
We travel nationwide with all our equipment and the new MK3 System will no doubt be a popular addition. Genuine 12-Bore over & under shotguns, deactivated and fitted with state of the art lasers, keep this attraction as near to the real thing as possible.
No recoil on the guns means no injury can be sustained. The electronic scoreboard keeps the contestants up to date with the scores. Realistic sounds of firing guns and hitting clays adds to the reality. There are four games to choose from; we will give you the choice that suits your event the best.
For added fun and something a bit different, we have special glow in the dark, luminous clays.
This product comes provided with everything required for use; including all assembly components, training, equipment and construction by our expert team.
Should you have any specific requirements or questions, feel free to contact us on: 0118 969 1188 or contact us using our contact page
Area required 100ft x 30ft


Knockout Entertainments
Knockout Entertainments provides high quality games, events, catering and activities for both private and corporate functions, events and days. Fully insured, our professional team ensure that your day is hassle-free and you and your guests are free to enjoy the activities!
We have locations in Leicestershire and Reading, Berkshire and provide services all around the United Kingdom.