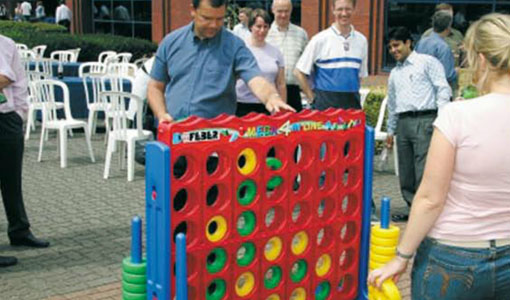 "Wow! What a weekend!
Many thanks to your team of superb staff and equipment for the Harley Davidson American Weekend Extravaganza.
Your help and understanding, prior to the event, along with your professional and friendly approach was just awesome!
Would have no doubt in using Knockout again and have recommended you to other Dealerships."

Your favourite indoor games, but now GIANT SIZE – these games are hugely entertaining for all ages and make for happy guest at any outdoors event
Great for garden parties, BBQs and as an additional attraction for both adults and children. Choose from the Giant Jenga; over 70 wooden blocks for you to build up before it topples over, Connect 4 always a world wide favourite and Twister, where you get as knotted as you like; just don't fall over!
This product comes provided with everything required for use; including all assembly components and construction by our expert team.
Should you have any specific requirements or questions, feel free to contact us on: 0118 969 1188 or contact us using our contact page


Knockout Entertainments
Knockout Entertainments provides high quality games, events, catering and activities for both private and corporate functions, events and days. Fully insured, our professional team ensure that your day is hassle-free and you and your guests are free to enjoy the activities!
We have locations in Leicestershire and Reading, Berkshire and provide services all around the United Kingdom.