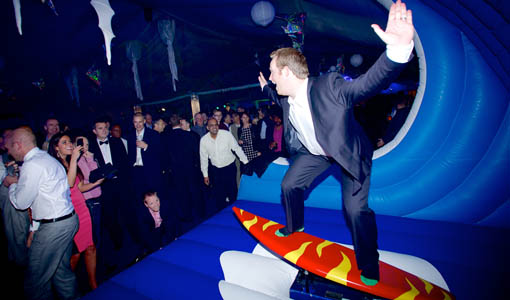 "I cannot thank Knockout Entertainments enough for the professional way in which you arranged our national corporate family fun days, having saved me a considerable amount of time and effort that such high profile events like ours demand."

Surf's Up! – ride the wave and see how long you can stay up on the surfboard
Our computer-controlled surf simulator can adjust in minutes from a gentle ripple to a towering tidal wave. This means that beach boys and girls of all skill levels can experience the thrill of riding the waves.
How long you can stay on depends on your skill and ability before your eventual Wipeout!
Great fun for contestants and spectators alike!
This product comes provided with everything required for use; including all assembly components and construction by our expert team.
Should you have any specific requirements or questions, feel free to contact us on: 0118 969 1188 or contact us using our contact page
This inflatable requires a space of up to 12ft x 12ft x 10ft high
Please note: Height restrictions apply; you need to be at least 1.2m tall to ride this event.


Knockout Entertainments
Knockout Entertainments provides high quality games, events, catering and activities for both private and corporate functions, events and days. Fully insured, our professional team ensure that your day is hassle-free and you and your guests are free to enjoy the activities!
We have locations in Leicestershire and Reading, Berkshire and provide services all around the United Kingdom.