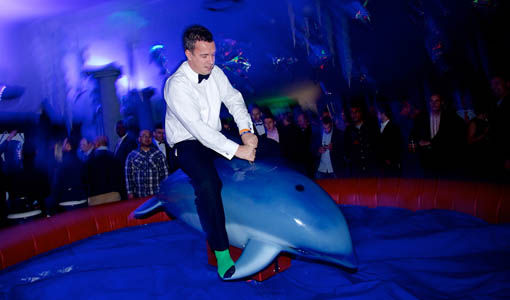 "I would have no hesitation in recommending Knockout Entertainments – they think of absolutely everything – sparing me much of the management time that I would normally have to invest in such an event."

Wet and wild fun – Our Rodeo Dolphin will make a real splash at your next event!
More slippery than eel, can you master the acrobatics of our Rodeo Dolphin? Forget the niceties of TV's Flipper, this dolphin doesn't want you on its back for long. It twists and turns, leaps and dives as you hang on trying to tame this big fish.
A great crowd-puller that will have everyone in stitches of laughter!
Also, don't forget our Rodeo Bull, Rodeo Reindeer, Rodeo Rugby Ball and, would you believe, our Rodeo Can!
Also available is our all-weather, inflatable marquee, should the weather turn wet.
This product comes provided with everything required for use; including all assembly components and construction by our expert team.
Should you have any specific requirements or questions, feel free to contact us on: 0118 969 1188 or contact us using our contact page
This inflatable requires a floor space of 20ft x 20ft and 10ft high
Please note: Height restrictions apply; you need to be at least 1.2m tall to ride this event


Knockout Entertainments
Knockout Entertainments provides high quality games, events, catering and activities for both private and corporate functions, events and days. Fully insured, our professional team ensure that your day is hassle-free and you and your guests are free to enjoy the activities!
We have locations in Leicestershire and Reading, Berkshire and provide services all around the United Kingdom.