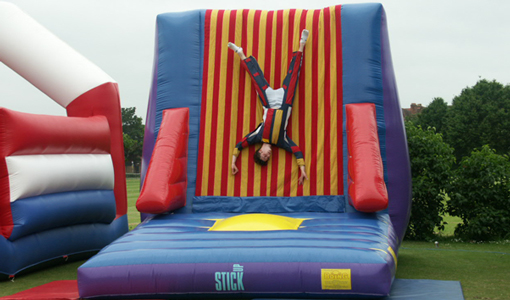 "I cannot thank Knockout Entertainments enough for the professional way in which you arranged our national corporate family fun days, having saved me a considerable amount of time and effort that such high profile events like ours demand."

Inflatable bar fly fun – this velcro wall is great fun for all ages and a fantastic game for events and fun days
The Bar Fly Stick Up, or Velcro Wall as it is also known, is great fun for all ages.  Wearing a Velcro suit contestants take a run up, bounce onto the yellow spring board and see how high they get get stuck up the wall.  Upside down if you like, just like Spiderman.  Total madness and hilarious fun for spectators and contestants alike.
This product comes provided with everything required for use; including all Velcro suits in children's and adults sizes, assembly components and construction by our expert team.
Should you have any specific requirements or questions, feel free to contact us on: 0118 969 1188 or contact us using our contact page
This inflatable requires a floor space of 18ft x 14ft and 14ft high; additional space is also required for the run up area.
Please Note: Due to the nature of this equipment, it is suitable for outdoor use, on grassed areas only.


Knockout Entertainments
Knockout Entertainments provides high quality games, events, catering and activities for both private and corporate functions, events and days. Fully insured, our professional team ensure that your day is hassle-free and you and your guests are free to enjoy the activities!
We have locations in Leicestershire and Reading, Berkshire and provide services all around the United Kingdom.