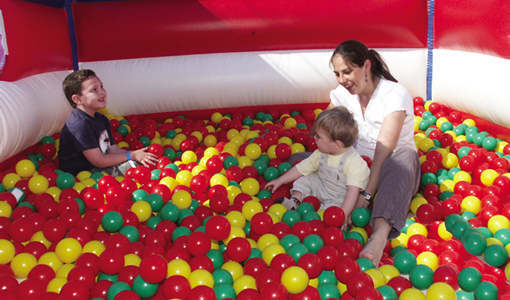 "I would have no hesitation in recommending Knockout Entertainments – they think of absolutely everything – sparing me much of the management time that I would normally have to invest in such an event."

Dive in to great fun! – the children ball pond is superb for children or as an addition to a bouncy castle
Our children ball ponds deliver sheer joy as kids get to dive into the pond and play with all the balls! This is also a good choice as an addition to other inflatable items, such as bouncy castles – combining to make a truly unforgettable experience for children.
This product comes provided with everything required for use; including all assembly components and construction by our expert team.
Should you have any specific requirements or questions, feel free to contact us on: 0118 969 1188 or contact us using our contact page
Size of ball pond is 12 x 12


Knockout Entertainments
Knockout Entertainments provides high quality games, events, catering and activities for both private and corporate functions, events and days. Fully insured, our professional team ensure that your day is hassle-free and you and your guests are free to enjoy the activities!
We have locations in Leicestershire and Reading, Berkshire and provide services all around the United Kingdom.