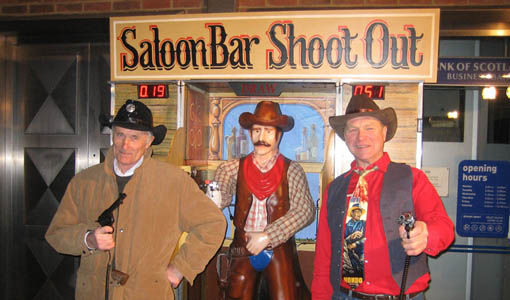 "I would like to express our utmost thanks for your and your staff's help and assistance at our Rolls Royce, Open Day.This was a iconic day for us, with the opening of our new building and inviting employee's families to the workplace.
Knockout Entertainments made this even more memorable for all, with the smooth and professional running of the event.Particular comments were made regarding your uniformed colour scheme of equipment, being red, white and blue – very patriotic! We look forward to future events and have no hesitation in using Knockout Entertainments again."

Known as Saloon Bar Shootout or John Wayne Quick Draw – call it what you like, this a game of the quick and the dead!
If you're holding a wild west night, this attraction is a must. When the Saloon Bar doors open, each gun slinger reaches for their Colt 45 revolver and shoots at the cowboy. The player with the quickest draw is the winner.
Wild West gun fire, honky-tonk piano music and even the famous Funeral March music from Chopin which all adds to the authenticity of this fantastic and unique quick draw game.
See also: Rodeo Bull
This product comes provided with everything required for use; including all assembly components and construction by our expert team.
Should you have any specific requirements or questions, feel free to contact us on: 0118 969 1188 or contact us using our contact page


Knockout Entertainments
Knockout Entertainments provides high quality games, events, catering and activities for both private and corporate functions, events and days. Fully insured, our professional team ensure that your day is hassle-free and you and your guests are free to enjoy the activities!
We have locations in Leicestershire and Reading, Berkshire and provide services all around the United Kingdom.