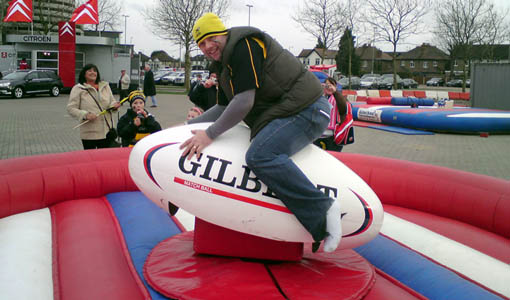 "Wow! What a weekend!
Many thanks to your team of superb staff and equipment for the Harley Davidson American Weekend Extravaganza.
Your help and understanding, prior to the event, along with your professional and friendly approach was just awesome!
Would have no doubt in using Knockout again and have recommended you to other Dealerships."

Rodeo comes to Rugby! – See if you can tackle our famous Rodeo Rugby Ball
For the Corporate Market, we can tailor this attraction to your individual specific requirements. We can even brand the object you will be riding.
The Rodeo Can is a prime example of the one of the many unusual objects can be adapted for you to ride. But it doesn't stop there; we can also provide bottles, other animals and, if you are broad-minded enough and over 18, human body forms in the shape of a man (great for hen-nights and leaves nothing to the imagination), and of course the female form.
Also, don't forget our Rodeo Bull, Rodeo Dolphin and Rodeo Reindeer and, would you believe our Rodeo Rugby Ball!
Also available is our all-weather, inflatable marquee, should the weather turn wet.
This product comes provided with everything required for use; including all assembly components and construction by our expert team.
Should you have any specific requirements or questions, feel free to contact us on: 0118 969 1188 or contact us using our contact page
This inflatable requires a floor space of 20ft x 20ft and 10ft high
Please note: Height restrictions apply; you need to be at least 1.2m tall to ride this event


Knockout Entertainments
Knockout Entertainments provides high quality games, events, catering and activities for both private and corporate functions, events and days. Fully insured, our professional team ensure that your day is hassle-free and you and your guests are free to enjoy the activities!
We have locations in Leicestershire and Reading, Berkshire and provide services all around the United Kingdom.