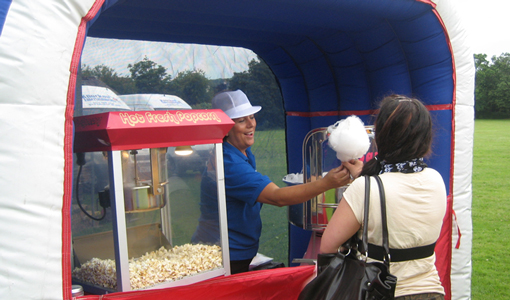 "I would like to express our utmost thanks for your and your staff's help and assistance at our Rolls Royce, Open Day.This was a iconic day for us, with the opening of our new building and inviting employee's families to the workplace. Knockout Entertainments made this even more memorable for all, with the smooth and professional running of the event.Particular comments were made regarding your uniformed colour scheme of equipment, being red, white and blue – very patriotic! We look forward to future events and have no hesitation in using Knockout Entertainments again."

Bring the cinema treat to your event! – your very own popcorn stall to provide tasty treats for all your guests!
Provide your guests with something tasty to eat at your event with your own PopcornStall, providing fun and easy-to-eat treats to all your guests.
You can hire us to provide a simple, effective way to raise money for your event. Or simply have us on hand at your corporate fun days to give out to your employees as an added bonus.
This product comes provided with everything required for use; including all assembly components and construction by our expert team.
Serves up to 100 people
Should you have any specific requirements or questions, feel free to contact us on: 0118 969 1188 or contact us using our contact page


Knockout Entertainments
Knockout Entertainments provides high quality games, events, catering and activities for both private and corporate functions, events and days. Fully insured, our professional team ensure that your day is hassle-free and you and your guests are free to enjoy the activities!
We have locations in Leicestershire and Reading, Berkshire and provide services all around the United Kingdom.